welcom back, Spuds!
Since my previous post, my tornado count has gone from zero to two!  Not exactly like the tornado's you see on the tele, but still quite something to see first hand.  The first occured on chase day #9 in western Texas, NW of Fort Stockton.  As it happens we were just ahead of the whole weather network crew on this lonesome Texas road.  As they all drove by, I carried out various silly gestures to snsure that those who know who I am were indeed able to recognize me.  They seemed to have a better spot in mind so we followed them down the road a bit.  By the time we pulled in with our knock-off 747 engine fan running, all the cameras and tripods were out, with the Storm Hunters just about finished setting up for a news clip.  Managed a quick wussup and selfie with ol' Grinter from my days at that facility on Steeles Ave in Toronto.  The name escapes me at the moment.  And all eyes went back to a very huge, very interesting storm slowly making its way towards us.  This storm moved at something under 10 kts which is quite slow and easy to stay on top of.  Lots of wierd stuff going on with this cell that I dare not risk describing in any further detail.  It was tough for me to tell where this tornado was going to take place, exactly, so it ended up being all the more experienced storm chasers yelling out "She's on the ground!" for me to be satisfied that this was indeed my first sighting of a tornado.  This tornado happened in less than a minute.  Basically the blink of an eye in comparison to what is often shown on tv.  Once it had finished, I by chance turned my camera to snap a shot of all the other Canadian chasers lined up off the roadway.  In this photo, I managed to capture a cloud-to-ground lightning strike that was considerably closer to us than any previous strike, startling everyone back into their cars for a safer viewing.  Silly Matty G. was even standing on top of his pickup truck dressed in his favourite Tin Man outfit holding an umbrella for some reason.  This is still one of my favourite pictures yet and so far the only one I've added a copyright to, considering how coincidential it is.  Might get around to sending it to the weather network.
And what do you know, it was only the very next day that tornado #2 happened for me!  My collegues and I were nearly in Dallas, TX for this one.  Again, it was fairly brief but still awesome.  The area was considerably different from the previous day, with hilly terrain and tree canopy making things more difficult to see.  Internet connection was key here, radar imagery and street maps allowing us to thread the needle of all the storm cells around us.  The speed at which these things can touch down and move along the ground really came into perspective for me with this tornado.  We were so far away from the thing but it was easy to see that it would outrun anyone who is too close, whether on foot or in a moving vehicle.  We got out safe and sound with room to spare, but unfortunately the town of Mineral Wells did not.  As it happens, two tornadoes hit the area one after the other, causing damage straight through the centre of town.  We slowly moved around the area and got a pretty good view of the damage.  Thankfully noone was seriously injured.
In the mean time, not too many trees out in western Texas, but holy wildflowers!  Its as though I'm in an entirely different part of the country that sees more moderate amounts of rain year round.  Feeling pretty lucky to have timed it out like this.  Stuff was in full bloom down here that takes till July to get the same way in Southern Ontario.  Yesturday we went after another storm east of Fort Stockton.  Conditions for tornado developement were present, but not good enough to the point of producing tornado #3.  With luck, I'll be typing all about it in my next post.
Today we ventured into New Mexico so that I could take another state off my 'been to' list and to enjoy the hot, dry, sunny weather..  except thats not what was waiting for us.  Suddenly I'm back home on an April-like day with fog, drizzle and a high of only 8 degrees celcius.  Lets just say it was alot easier to fall asleep in the front seat this time around.  Oh well.  My trip to see the Seguaro cacti in Arizona that I'm still in the process of dreaming up should make up for it.  At least in Roswell I finally found a touristy sowing patch to add to my cub blanket.  Once we made it to our hotel in Clovis, NM I had to go for a walk down some random bulivard close to the hotel to break away from the ever-growing truck smells.  One of the worst things about hotels in the states, and perhaps in Canada too, is that they are in no reasonable walking distance to anything remotely interesting.  I'll probably go for a minimum 10k walk when I get back home.  I know I've been too physically lazy once I can feel into the inner side of my tibia bone with my fingers.
peace to my wu-nation
=> Shane
Good Morning From Abilene TX, it looks like we will be heading south west today. We are not expecting too much, however, we are down here so we will give it a go and see what happens.
As for yesterday, it was a very eventful day. After scratching our heads for some time, we decided to chase the storms out east along the warm front. Not ideal for chasing but as the afternoon progressed it seemed like the environment was going to support a few tornadoes if semi isolated storms were to develop. Sure enough a few storms popped up. Some developed further east than we expected but we managed to get to them just in time to see one drop a tornado. It looks like they may have dropped more than one but due to the terrain we could not get a good visual on the storm in some areas.
Below is a picture of one of the Tornadoes we could see and managed to get a photo of it. it was on the ground for about a minute or two then dissipated. It looked like the storm was trying to produce another tornado,  however, it went behind a hill and we could not see.
Well Yesterday worked out really well all things considered. I scheduled an appointment at an Amarillo, TX Chevrolet dealership to get the brakes checked out as the unholy sounds they were making was a bit worrisome. I made the appointment for 7:15AM as I knew that we could have a 5-6hr drive ahead of us to get to the storm area.However, the google maps directions decided it had other plans and had me go to the completely wrong side of town. I finally rolled into the dealer at 8AM after receiving directions from their second location, which I did have trouble following because there is a Cotter street and a Coutier street, which when pronounced with a West Texas accent sound remarkably similar….but they managed to get us on the road again by 10:30 which was great.
As opposed to our Moderately Meh day in Kansas / Oklahoma / Texas, we managed to get a really good storm near Pecos, Texas that did produce at least one very brief tiny tornado. This storm was the slowest one we have ever chased, "moving" at approximately 5MPH, which compared to most of our chases it was essentially stationary. We have 3 hours of dash cam footage that were all filmed over approximately 40 miles of road. We have a lot of footage / photos to sift through and start uploading to a gallery on the site but due to a lack of downtime and at least in this hotels case poor internet we can't upload them in bulk.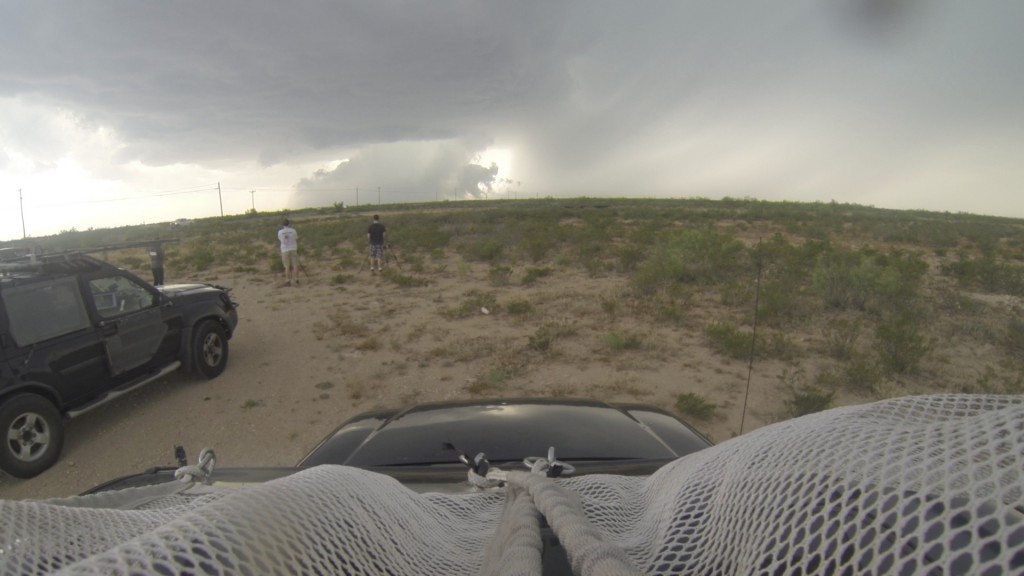 We have started our day a little early today. Taking the Truck in for some brake pad replacement and a oil change. Even though we inspected the breaks before heading out this year, they now appear to be getting a little low on the wear scale.
After the truck is all fixed up it looks like we will be heading to southwest Texas/southeast New Mexico area. Not a great setup today for storms. However there is a chance that if convection does occur down there today, that some nice structured rotating supercells may be possible.
Spuds,
Another late night post from the Midnight Balla.  A lot of hype went in to today and for good reason.  Lots of different colours showing up on SPC's convective outlook page, centering around the tornado prone state of Oklahoma, and on a Saturday, no less.  As we expected, the GR level 3 window lit up with more storm chaser contacts than a Cylon basestar's full raider compliment on the Galactica's Dradis console.  Too long a sci-fi reference?  Well too bad.  Smiley face.
Anywho, my team was well on our way southward from northern Kansas to this major event, when suddenly our vehicle began to shake rather noticeably above a certain RPM.  Quickly ruling earthquakes out as a possibility, it was determined that our muddy dirt road adventures of the previous day had thrown things out of wack with our tire alignment (I'm not the auto expert of the group either).  So we did what all Americans do on a Saturday afternoon and headed for the nearest Walmart to try and solve this problem on time before things southward start to heat up.  They fixed the shaking in due time but were unable, or perhaps unwilling to figure out the truck's other problem involving the brakes.  Again, I don't know enough about automotive specs to interpret it well enough, only that it was not an issue that would hinder our ability to drive safely.
With that delay, we had to quickly change plans.  GR level 3 now looked as though the Death Star launched all its Tie Fighters to converge on the rebel fleet being the Oklahoma/Texas panhandle storms.  You had to zoom in real close to be able to read everyone's individual icon name.  So we decided to avoid that cluster f-word and head for some developing cells west of the main group.  No tornadoes this time, but lots of interesting structure none the less.  And to shed colourful light on to my initial title reference, as we rounded the back side of a storm in northern Texas, I witnessed the most rainbows I have ever seen in a 20 minute period.  This storm seemed to be the last in the overall lineup of cells so there was nothing behind it but clear skies to shed a little light on the heavy rain.  And on a more personal note, this area of the US may not have a lot of trees but with all this rain, the plant life that is present here seemed as flushed out and colourful as it could possibly get.  For example, the species of Yucca that grows here had countless creamy yellow coloured flowers on display along the roadsides.
Oklahoma got pretty crazy in the early evening hours with tornado warnings sparking up across the whole state.  We were done for the day by then either way.  Haven't seen the final reports but hopefully no one's been hurt.  Still no tornado for me yet, but it was a very interesting day.
Catch you later,
=> Shane
Good morning from Kansas, we are already on the road south but just thought I do a quick post. It was quite the eventful afternoon yesterday. We ending up jetting west when we got to North Platte Nebraska. Started the chase early with a storm just south west of Chappell along the Colorado and Nebraska border. We Chased in that area and to the north for a few hours. Got to see a storm develop from a small cloud to a massive mesocyclone producing hail and many funnel clouds. although we could not see the funnels on the ground, one or two may of touched down as there were a few reports of tornadoes on the storms in the area.
As for today we are currently heading south towards the Kansas Oklahoma Boarder. Along the way we will continue to look at the forecast models and see if we should head further south into southwest Oklahoma or not. Today so far is forecasted to be a very intense day for storms along the plains with the chance of some strong  severe tornadoes. Safety is always a big part of storm chasing and we hope everyone today stays vigilant and takes appropriate precautions to stay safe.
Early Start to the day today. We held back in Kansas yesterday to see if things might look up for Chasing in Kansas today. However with the newest models out it looks like we will be gunning it to the warm front up in central Nebraska to the South Dakota boarder, not ideal chase territory but with a few down days behind us it will be nice to see a developing storm again.
Below is a Picture from SPC on todays outlook for Probability Tornado development.
Another off day for chasing today but not a day where I could keep my eyes off the sights all around us as we ventured from Missouri to Kansas.  Yesterday we drove through the middle of Mark Twain National Forest in the late afternoon/early evening hours.  The hilly, curvy roads remind me of Old Ancaster Road back home.  Lots of Oaks, Hickories and a southeastern pine species called Shortleaf Pine.  Going from Missouri to Kansas, I observed the scenery changing from extensive hilly hardwood forests to more scattered Savannah habitat, and finally levelling off to great plains of grassland and cattle for as far as the eye could see.  By the time we entered Kansas, it had thoroughly clouded over with rain gradually intensifying to a moderate level when we finally reached Wichita.  I wont risk forecasting tonight on the count of possibly being another one of those guys who is wrong all the time so I'll just stick with the now- and pre-casting and hope to heck I'm right.
On a serious note, I am honestly very impressed with the tree canopy cover that I have seen in the last two days going from southern Indiana through Illinois to Missouri.  Its something I would like to see a lot more of in Southern Ontario, however I'm just one guy planting stuff out there so I can't do it all myself.  But I digress.  All chasers should take one of their off-days in an environment like this to change things up from staring at near endless agriculture all day while awaiting for the big boomers.  In my very limited time in this storm chasing experience, I am already in understanding of how stressful an experience it can be.  Success will not always be at the other end of the day.  So make sure you take a drive, or better yet, a walk in the park on an off day.  Trees, People; Community.  That's the slogan my most recent post secondary program at Fleming College went by.  If it works for our municipal communities, perhaps the developing community of storm chasers may benefit from it as well.
Tomorrow is full of all the mysteries and excitement that storm chasing is all about.  We have no idea where we'll be heading, aside from a morning appointment to get our truck fixed.  Ok so not really that exciting or accurate but we do know that this weekend will prove to be an interesting one for storms.  Expecting to have a lot of other chasers on the road out there so if you feel the need to chase storms, please do so in an orderly fashion.
=> Shane
I have to stress that it is not important as to who was driving off without who, and who remembered or didn't that there are three of us in the truck this year. Things were done and things were quickly remedied. It is going to (obviously) take a few chases to get back into the swing of things and remembering that there is a third person is just a small kink in the overall chain.
All in all I think the chase yesterday went pretty smoothly, we started in Decatur Indiana and went NE almost to Toledo Ohio. Our new electric fan may not be up to the task of keeping the truck cool during a chase, but has so far performed as expected on a "normal" drive. We may have to modify the shroud to help airflow through the rad. We did manage to keep up with a pretty fast moving storm (~45kts) for almost 2 hours,  aided by a good road structure (and choices by Jay)  and lack of traffic.
We have 2-3 down days it looks like, we are going to head southwest towards Oklahoma in preparation for what looks like a very active end of the week / weekend. Having a large weather event on the weekend generally means it is going to be very busy with other chasers, we will have to contend with a lot of traffic as well as the actual storm. Tomorrow we are going to go to the Mark Twain National Forest in Missouri for a bit of sightseeing since it is en route.
Well the forecast today is less than stellar, much of the predicted instability, looks like it will migrate north and east of where we thought it would be yesterday. That coupled with some decent shear around the Indiana, Michigan, Ohio border today makes it our likely target. While it is not a great setup it looks like we will have a couple of down days before the next batch of storms so we will be heading out just to poke around and see what we can find.
Below on the left is a image of some of the few storms we passed through on the way to Martinsville. nothing too large and exciting but it was nice to get into a storm again and see some slight structure along a bit of hail to whet our appetite.
Below on the Right is the SPC forecast for a chance of Tornadoes today.