Jay@mesoholics.net's
Articles
Good Morning From Abilene TX, it looks like we will be heading south west today. We are not expecting too much, however, we are down here so we will give it a go and see what happens.
As for yesterday, it was a very eventful day. After scratching our heads for some time, we decided to chase the storms out east along the warm front. Not ideal for chasing but as the afternoon progressed it seemed like the environment was going to support a few tornadoes if semi isolated storms were to develop. Sure enough a few storms popped up. Some developed further east than we expected but we managed to get to them just in time to see one drop a tornado. It looks like they may have dropped more than one but due to the terrain we could not get a good visual on the storm in some areas.
Below is a picture of one of the Tornadoes we could see and managed to get a photo of it. it was on the ground for about a minute or two then dissipated. It looked like the storm was trying to produce another tornado,  however, it went behind a hill and we could not see.
We have started our day a little early today. Taking the Truck in for some brake pad replacement and a oil change. Even though we inspected the breaks before heading out this year, they now appear to be getting a little low on the wear scale.
After the truck is all fixed up it looks like we will be heading to southwest Texas/southeast New Mexico area. Not a great setup today for storms. However there is a chance that if convection does occur down there today, that some nice structured rotating supercells may be possible.
Good morning from Kansas, we are already on the road south but just thought I do a quick post. It was quite the eventful afternoon yesterday. We ending up jetting west when we got to North Platte Nebraska. Started the chase early with a storm just south west of Chappell along the Colorado and Nebraska border. We Chased in that area and to the north for a few hours. Got to see a storm develop from a small cloud to a massive mesocyclone producing hail and many funnel clouds. although we could not see the funnels on the ground, one or two may of touched down as there were a few reports of tornadoes on the storms in the area.
As for today we are currently heading south towards the Kansas Oklahoma Boarder. Along the way we will continue to look at the forecast models and see if we should head further south into southwest Oklahoma or not. Today so far is forecasted to be a very intense day for storms along the plains with the chance of some strong  severe tornadoes. Safety is always a big part of storm chasing and we hope everyone today stays vigilant and takes appropriate precautions to stay safe.
Early Start to the day today. We held back in Kansas yesterday to see if things might look up for Chasing in Kansas today. However with the newest models out it looks like we will be gunning it to the warm front up in central Nebraska to the South Dakota boarder, not ideal chase territory but with a few down days behind us it will be nice to see a developing storm again.
Below is a Picture from SPC on todays outlook for Probability Tornado development.
Well the forecast today is less than stellar, much of the predicted instability, looks like it will migrate north and east of where we thought it would be yesterday. That coupled with some decent shear around the Indiana, Michigan, Ohio border today makes it our likely target. While it is not a great setup it looks like we will have a couple of down days before the next batch of storms so we will be heading out just to poke around and see what we can find.
Below on the left is a image of some of the few storms we passed through on the way to Martinsville. nothing too large and exciting but it was nice to get into a storm again and see some slight structure along a bit of hail to whet our appetite.
Below on the Right is the SPC forecast for a chance of Tornadoes today.
After awaiting the 15Z forecast models to be release and reviewing them. It looks like we will be heading to south east Nebraska. will be a long day, it appears that there will be a line of storms that will make it difficult to navigate around and there is a good possibility for long lasting tornado's.
P.S Happy Mothers Day.
Getting ready to position for Sunday afternoon/evening. The Storm Prediction Center has upgraded there risk for tomorrow from slight to moderate as predicted if the models were to hold up with what they were suggesting. predictions are tough to choose from as there are 3 spots to choose from the warm front in Iowa, that shows the most the most probability so far for significant tornado's. the cold front in OK KS but will most likely form a line of storms that increases he chance of dangerous situations as there is no way then around the line of severe weather. or the southern plains that show a better chance for isolated severe weather but will have a lower chance of producing a tornado due to the shear not being favorable until the evening to over night hours. this is a tough one to decide as Iowa is about 10 hours from Texas.
First chase of the season yesterday was pretty exciting. It was a long drive to get into position, but we finally ended up chasing an amazing LP cyclic supercell in northern Texas just outside of Paducah. With the storms moving extremely slow it was fairly easy to keep up with it and just watch it go through the motions of intensifying and dying off then re-intensifying for a couple of hours. Pictures and Video to come when we have a better internet connection.
Today it seems we won't have to go to far with the models suggesting southwest Oklahoma to south-central Texas for supercell development. Although there is not much in the chance for tornado development today we should get some night supercells with large to very large hail.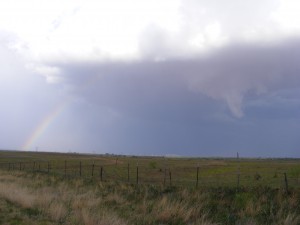 Rainbow and a funnel cloud, good end to a good day.
With our season starting May 2nd there was not much forecast for severe weather in the plains. We Waited eagerly, looking at the morning and evening forecasts hoping that they would improve. Finally there was a glimpse of hope for some storms on Wed in the Central Plains and Northern TX. We departed home and began the long south west trip. Of course with the truck having some mechanical issues 3 hours into the start of the journey as Kevin mentioned in his update. we are now about 8 hrs behind schedule, lots of driving and little sleep right off the start seems like the tradition of little sleep when storm chasing continues.
Sometimes when you plan everything out and all seems like it is going smoothly a wrench gets thrown into the middle and causes some delays.
We departed home 2min later than we expected and made it through Toronto before the traffic really started to back up. The goal today was to get to Illinois then look at the forecast and decide where our target area for Wednesday would be. However, about 2.5hrs into the trip the Truck started acting a bit odd and just before we crossed the boarder we decided to stop and see if my diagnosis was correct. Unfortunately the small but constant drip and the oil sprayed inside the engine compartment confirmed that we have a small leak in the hard line that goes from the transmission to the transmission cooler.
Of course it decides to start leaking after we leave, much like the Water pump last year forcing us to get a dealer to repair something that is doable in the driveway but that is the way she goes.
Now we sit in a Sarnia Tim Hortons waiting on a call for an approximate time frame on when the repair can even be started. Luckily we left lots of time because the forecast is looking promising for Wednesday.