Kevin@Mesoholics's
Articles
Well Yesterday worked out really well all things considered. I scheduled an appointment at an Amarillo, TX Chevrolet dealership to get the brakes checked out as the unholy sounds they were making was a bit worrisome. I made the appointment for 7:15AM as I knew that we could have a 5-6hr drive ahead of us to get to the storm area.However, the google maps directions decided it had other plans and had me go to the completely wrong side of town. I finally rolled into the dealer at 8AM after receiving directions from their second location, which I did have trouble following because there is a Cotter street and a Coutier street, which when pronounced with a West Texas accent sound remarkably similar….but they managed to get us on the road again by 10:30 which was great.
As opposed to our Moderately Meh day in Kansas / Oklahoma / Texas, we managed to get a really good storm near Pecos, Texas that did produce at least one very brief tiny tornado. This storm was the slowest one we have ever chased, "moving" at approximately 5MPH, which compared to most of our chases it was essentially stationary. We have 3 hours of dash cam footage that were all filmed over approximately 40 miles of road. We have a lot of footage / photos to sift through and start uploading to a gallery on the site but due to a lack of downtime and at least in this hotels case poor internet we can't upload them in bulk.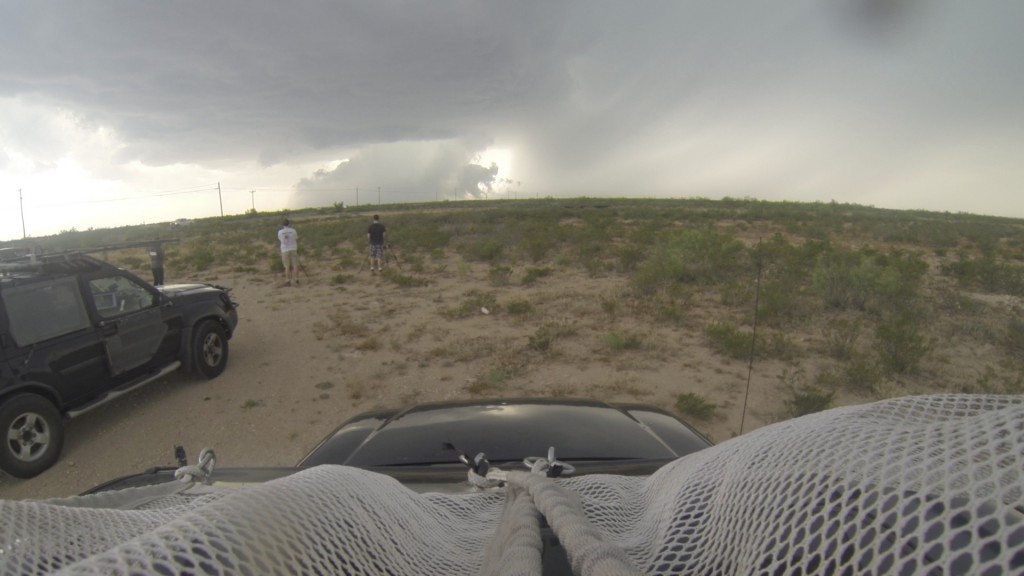 I have to stress that it is not important as to who was driving off without who, and who remembered or didn't that there are three of us in the truck this year. Things were done and things were quickly remedied. It is going to (obviously) take a few chases to get back into the swing of things and remembering that there is a third person is just a small kink in the overall chain.
All in all I think the chase yesterday went pretty smoothly, we started in Decatur Indiana and went NE almost to Toledo Ohio. Our new electric fan may not be up to the task of keeping the truck cool during a chase, but has so far performed as expected on a "normal" drive. We may have to modify the shroud to help airflow through the rad. We did manage to keep up with a pretty fast moving storm (~45kts) for almost 2 hours,  aided by a good road structure (and choices by Jay)  and lack of traffic.
We have 2-3 down days it looks like, we are going to head southwest towards Oklahoma in preparation for what looks like a very active end of the week / weekend. Having a large weather event on the weekend generally means it is going to be very busy with other chasers, we will have to contend with a lot of traffic as well as the actual storm. Tomorrow we are going to go to the Mark Twain National Forest in Missouri for a bit of sightseeing since it is en route.
Well we are finally prepared and heading down to the Midwest for a few days. Due to some financial constraints we altered our normal plan and we are not going to be down for the normal two weeks. There are no big changes to the truck or equipment this year, save for a new GoPro everything is much the same.
We are departing home tomorrow morning and, knock on wood, plan to reach Joplin, MO or thereabouts by tomorrow evening. From there we will fine tune our forecast and see where we will be chasing from. I hope that this season stats as active as it has been but as usual, hope even more that people stay safe.
After countless storms and close calls we finally got our first tornado. It was a nice cone that was on the ground for a long period of time just outside of the town of  Rozel, Kansas. We have not heard if there were any injuries reported as of yet but we hope that there weren't any.
The day was a coin toss as we were essentially in position from about noon as we watched the front roll in from the Smoke Hoss Restaurant where we enjoyed another delicious meal (having stopped there almost exactly 1 week prior on a different trip through the same town of Meade, KS). There was a cell that was quite strong that popped up to our north and another one that was to our south across the Oklahoma border. The models had predicted that cells would pop up right at our location where the potential for tornadoes was the highest in the area.
The issue was that these storms were not predicted to start until after 6PM and we were waiting for a few hours watching these storms to our north and south that had attracted the attention of many of the other chasers that were out. However, we sat and waited sticking to the original plan and putting some faith that our storm would not only appear, but it would be the best of the day.
At about 6:20PM everything started happening and we were off to chase. The storm appeared right were it should have and moved into the energy that we were hoping it would. We watched it grow on the radar and the top of the cloud peaked over 50,000ft at one point. When we reached the sideroad that many other chasers had set up on we watched it produce a tornado that stayed on the ground for over 5min.
We will put up a video of this tornado and the other 3 that this storm produced as we followed its path north-east when time allows for editing, but right now we have to hit the sack as there are predictions for even stronger storms tomorrow around our area again.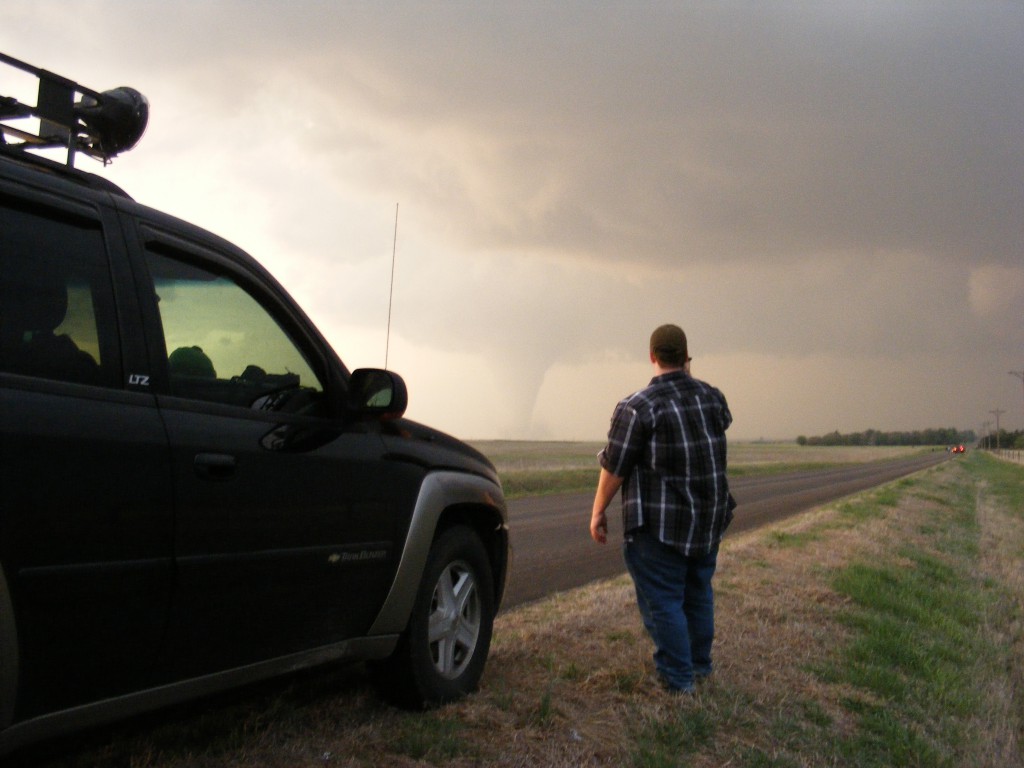 Spending 3 days in a hotel in Beatrice, NB is good for the pocketbook but bad for the nerves. We went to see Iron Man 3 for the low price of $16.50 all in including 2 adult tickets, 2 drinks and a popcorn. Now we are finally on our way to O'Neill, NB to start chasing.
As we frequently find ourselves close to storms and their related damage we sometimes get to see these things close up. Last year in New Mexico we saw a small fire that was started by a lightning strike hitting a Cactus. This small burning plant was interesting to see and a lesser highlight of our 2012 season.
This year we stepped it up a few notches and once again were close to a lightning strike that resulted in a fire. This time, however, the result was a bit more dramatic and (I think) we wisely decided to get a quick drive by video and not stop to observe or try to put out the flames.
See below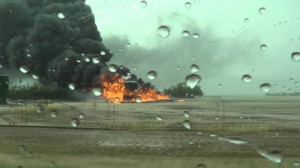 These are 3 Crude Oil storage tanks that I assume took a direct lightning strike and caught fire. We had just driven past them as I saw the smoke in the rear view mirror when we were a bit further down the road. We pulled a u-turn to investigate and as we drove past you could feel the intense heat inside the truck.
I finally stopped driving that is… after 1400KM and 4 states I finally gave up the drivers seat and let Jay, have a go. Tonight we are heading to Perry, Oklahoma, and should arrive there around 1AM EST, which looks like it will be a good central location for our improving storm forecasts.
With any luck our internet issues have been solved, we have made 2 phone calls and several stops at various retail stores for both Verizon and T-Mobile to get the mistakes caused by the previous location fixed but all seems good as of this moment. We also made a stop off to pick up two external cell phone antennas to bring the total number of add ons on the roof to 5 between the 2 GPS units, the 2 new Phone antennas and the CB antenna, we do get a lot of looks from other vehicles on the road.
If anyone is wondering the transmission lines that I suspected were the culprit for the odd behavior and the leak were fixed now, and everything else seems to be in order knock on various pieces of wood.
Also I need to give some thanks to youtubes OnlyChillstep who made the end of rush hour downtown Chicago traffic a bit more manageable. I think that Toronto traffic is worse but the unfamiliarity with the roads lead to some tense times.
Waiting in Carlsbad the T.I.V. and several Doppler on Wheels trucks that were a part of the Vortex II team were parked in the downtown Walmart, they attracted quite a crowd.  When we headed out for our chase they had not yet departed. The storm looked ok but it was quite clear that it would not be anything special.
Onto the chase, no we didn't get a tornado but we got a good shelf cloud and another core punch. We got some video of the storm from afar but decided that since it was not going to drop a tornado and the hail was rather small that intercepting it on a county road was the best course of action. After catching back up to the core on County Rd. 13 we got some prelude photos that can be seen in the gallery and then the punch video that I have to edit still.
After we emerged from the core and continued down the road we were treated to a good lightning show and actually saw a cactus on the side of the road that had been struck by lightning and was on fire. We waited there for a few minutes to ensure that the fire was not going to spread to the nearby grasses and more cacti before calling and end to the chase day.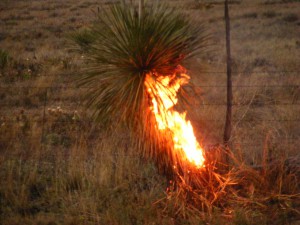 We missed out on some good storms on a very marginal day today, can't win them all. We are heading out and hoping for some activity tomorrow but like today it looks less than promising. Had an issue with the waterpump on the truck that required it to be replaced, after a relatively quick stop at a Chevrolet dealer in Moriarty, OK the Trailblazer was back on the road. We stopped for a photo op in Texhoma (yes its a real place aptly named as its on the boarder of Texas and Oklahoma) for a high plains sunset and a well timed train passed us by.
We thank the Days Inn for providing us the bandwidth to upload the media and update the site…
Surprising outcome to a promising looking day, not much happened. After waiting in Neligh, NE for a few hours with no results, we decided to pack it in. We decided on Lincoln, NE as our stop off point as it looks like somewhere in Kansas is our target area for today. However, we went a bit further south and stopped in Beatrice, NE.
After our dinner in Albion, I spotted a coin-op car wash and gave the Trailblazer a much needed bath (only $1.75 for 7min of time!!). 2500 KM of bugs and dust washed off relatively easily but the remaining drive to the hotel erased my efforts.  However, the few minutes it was clean was satisfying. On our way out, the much anticipated storms finally popped about 80 miles west of our location but it was getting dark and none of us wanted to chase at night time.