After countless storms and close calls we finally got our first tornado. It was a nice cone that was on the ground for a long period of time just outside of the town of  Rozel, Kansas. We have not heard if there were any injuries reported as of yet but we hope that there weren't any.
The day was a coin toss as we were essentially in position from about noon as we watched the front roll in from the Smoke Hoss Restaurant where we enjoyed another delicious meal (having stopped there almost exactly 1 week prior on a different trip through the same town of Meade, KS). There was a cell that was quite strong that popped up to our north and another one that was to our south across the Oklahoma border. The models had predicted that cells would pop up right at our location where the potential for tornadoes was the highest in the area.
The issue was that these storms were not predicted to start until after 6PM and we were waiting for a few hours watching these storms to our north and south that had attracted the attention of many of the other chasers that were out. However, we sat and waited sticking to the original plan and putting some faith that our storm would not only appear, but it would be the best of the day.
At about 6:20PM everything started happening and we were off to chase. The storm appeared right were it should have and moved into the energy that we were hoping it would. We watched it grow on the radar and the top of the cloud peaked over 50,000ft at one point. When we reached the sideroad that many other chasers had set up on we watched it produce a tornado that stayed on the ground for over 5min.
We will put up a video of this tornado and the other 3 that this storm produced as we followed its path north-east when time allows for editing, but right now we have to hit the sack as there are predictions for even stronger storms tomorrow around our area again.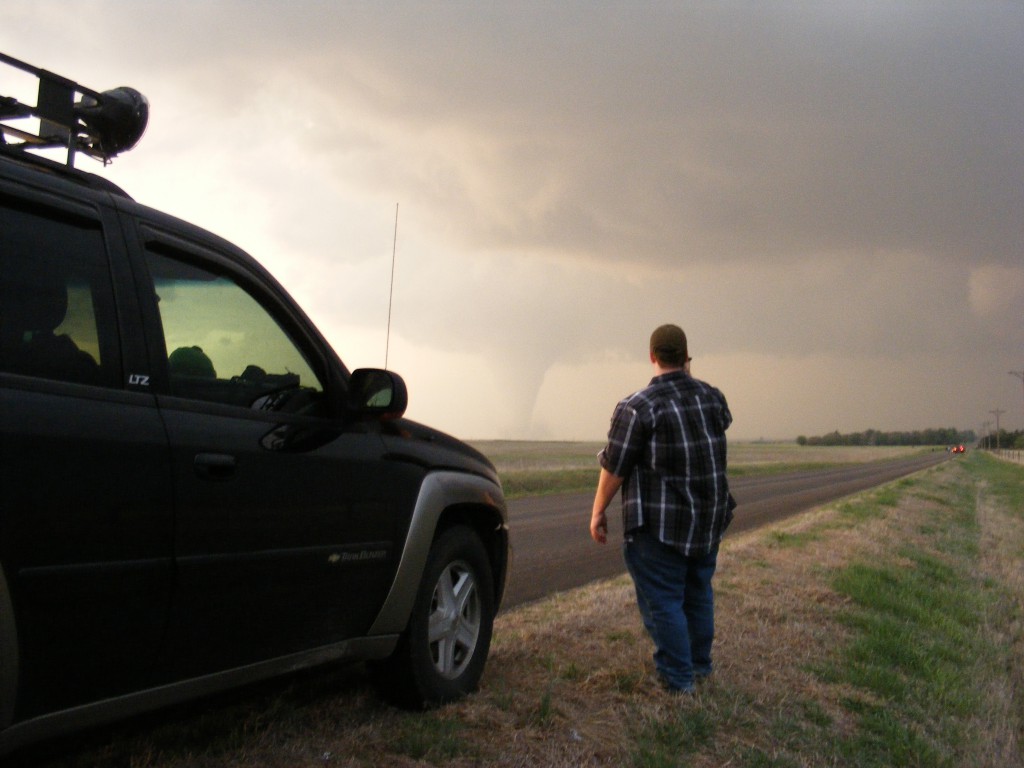 Spending 3 days in a hotel in Beatrice, NB is good for the pocketbook but bad for the nerves. We went to see Iron Man 3 for the low price of $16.50 all in including 2 adult tickets, 2 drinks and a popcorn. Now we are finally on our way to O'Neill, NB to start chasing.
As we frequently find ourselves close to storms and their related damage we sometimes get to see these things close up. Last year in New Mexico we saw a small fire that was started by a lightning strike hitting a Cactus. This small burning plant was interesting to see and a lesser highlight of our 2012 season.
This year we stepped it up a few notches and once again were close to a lightning strike that resulted in a fire. This time, however, the result was a bit more dramatic and (I think) we wisely decided to get a quick drive by video and not stop to observe or try to put out the flames.
See below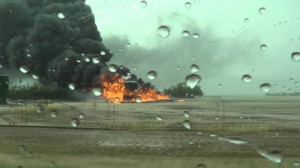 These are 3 Crude Oil storage tanks that I assume took a direct lightning strike and caught fire. We had just driven past them as I saw the smoke in the rear view mirror when we were a bit further down the road. We pulled a u-turn to investigate and as we drove past you could feel the intense heat inside the truck.
First chase of the season yesterday was pretty exciting. It was a long drive to get into position, but we finally ended up chasing an amazing LP cyclic supercell in northern Texas just outside of Paducah. With the storms moving extremely slow it was fairly easy to keep up with it and just watch it go through the motions of intensifying and dying off then re-intensifying for a couple of hours. Pictures and Video to come when we have a better internet connection.
Today it seems we won't have to go to far with the models suggesting southwest Oklahoma to south-central Texas for supercell development. Although there is not much in the chance for tornado development today we should get some night supercells with large to very large hail.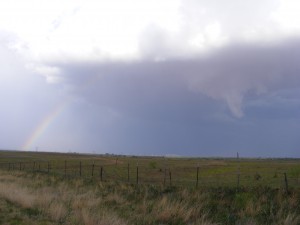 Rainbow and a funnel cloud, good end to a good day.
With our season starting May 2nd there was not much forecast for severe weather in the plains. We Waited eagerly, looking at the morning and evening forecasts hoping that they would improve. Finally there was a glimpse of hope for some storms on Wed in the Central Plains and Northern TX. We departed home and began the long south west trip. Of course with the truck having some mechanical issues 3 hours into the start of the journey as Kevin mentioned in his update. we are now about 8 hrs behind schedule, lots of driving and little sleep right off the start seems like the tradition of little sleep when storm chasing continues.
Sometimes when you plan everything out and all seems like it is going smoothly a wrench gets thrown into the middle and causes some delays.
We departed home 2min later than we expected and made it through Toronto before the traffic really started to back up. The goal today was to get to Illinois then look at the forecast and decide where our target area for Wednesday would be. However, about 2.5hrs into the trip the Truck started acting a bit odd and just before we crossed the boarder we decided to stop and see if my diagnosis was correct. Unfortunately the small but constant drip and the oil sprayed inside the engine compartment confirmed that we have a small leak in the hard line that goes from the transmission to the transmission cooler.
Of course it decides to start leaking after we leave, much like the Water pump last year forcing us to get a dealer to repair something that is doable in the driveway but that is the way she goes.
Now we sit in a Sarnia Tim Hortons waiting on a call for an approximate time frame on when the repair can even be started. Luckily we left lots of time because the forecast is looking promising for Wednesday.