Archive for "
May, 2012
"
Waiting in Carlsbad the T.I.V. and several Doppler on Wheels trucks that were a part of the Vortex II team were parked in the downtown Walmart, they attracted quite a crowd.  When we headed out for our chase they had not yet departed. The storm looked ok but it was quite clear that it would not be anything special.
Onto the chase, no we didn't get a tornado but we got a good shelf cloud and another core punch. We got some video of the storm from afar but decided that since it was not going to drop a tornado and the hail was rather small that intercepting it on a county road was the best course of action. After catching back up to the core on County Rd. 13 we got some prelude photos that can be seen in the gallery and then the punch video that I have to edit still.
After we emerged from the core and continued down the road we were treated to a good lightning show and actually saw a cactus on the side of the road that had been struck by lightning and was on fire. We waited there for a few minutes to ensure that the fire was not going to spread to the nearby grasses and more cacti before calling and end to the chase day.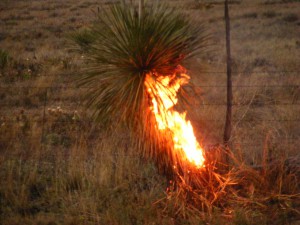 Long Drive from Louisiana to New Mexico last night. We are hoping from some nice visible storms today,will have to be on on our game, as poor road networks and intermittent Internet signal will make it more challenging to be in good position than a more chase friendly territory like Kansas.
Waiting for the storms to pop in Roswell, NM passing time by researching UFO conspiracies…
We missed out on some good storms on a very marginal day today, can't win them all. We are heading out and hoping for some activity tomorrow but like today it looks less than promising. Had an issue with the waterpump on the truck that required it to be replaced, after a relatively quick stop at a Chevrolet dealer in Moriarty, OK the Trailblazer was back on the road. We stopped for a photo op in Texhoma (yes its a real place aptly named as its on the boarder of Texas and Oklahoma) for a high plains sunset and a well timed train passed us by.
We thank the Days Inn for providing us the bandwidth to upload the media and update the site…
Well, we knew it was going to be a long drive today for modestly organized storms…and it was.  Storms fired early, earlier than predicted the day before and so for a long while we were playing catch-up as we headed south through Texas.  Ironically, the best location looked to be San Angelo yesterday, and that was the location where the storms formed today.  Luckily the storms were slow moving and that allowed us to catch up with the main storm cell by later in the afternoon.  While weak rotation was exhibited in the storms, it was pretty evident that none were going to produce anything special.  It was basically a structure and hail day, and that was basically what we got.  Some very nice structure pictures and some very nice 1 in hail near Fredricksburg Texas.  Winds also picked up nicely today and on more than one occasion the rain and hail were falling more horizontally than vertically.  Internet feeds became intermittent south of Abeline and for a period of the day, we were without internet.  Still a fun day to chase in a week that otherwise, looks to be fairly uneventful.  Pattern problems galore are in the forecast!
After a bust day Saturday, finally some storms on our first Sunday in the plains.  Yesterdays cold frontal boundary was sagging south, and we started the morning in the cool air beside the front.  The plan was to move south into the warm sector and wait for storms to fire along the cold front later in the day.  Morning convection had thrown out a gust front, and so the original target of the day was Independence, KS.  This would allow us to catch storms both on the gust front and along the cold front, whichever looked better.  The first storms of the day did form on this gust front, but were moving south into poor chase territory.  We wanted to wait for something better.  More storms did event:ually form along the same cool pool, but we were still holding out for something better along the eastward advancing cold front. By 5:30 pm with more storms forming near Kansas City with reports of brief/pulse wall clouds and funnels, we finally decided to bail on any storms along the cold front.  Then finally a weak storm began to form just as we were about to leave for Kansas City.  Given our position, and looking at the parameters, we decided to go after this new storm.  At first it was developing on the cold side of the boundary and not really riding along it.  It pulsed  a few times, but was slow to really get going.  Then an hour before dark, finally it started moving right and began to show signs of weak rotation.  By this point we were in perfect position for intercept and were able to keep ahead of the storm and get some decent pictures of some weak wall clouds at the base of the main updraft. We then continued to follow this storm and the storm immediately to its south for the next hour or so down some pretty small rural back-roads.  Lightning was picking up through the evening and so it was a pretty cool ride down some very hilly Kansas roads!    The day ended waiting for hail north of Yates Centre before heading to Wichita for the night.
Destination Monday, looks to be south Texas.
Brian
Surprising outcome to a promising looking day, not much happened. After waiting in Neligh, NE for a few hours with no results, we decided to pack it in. We decided on Lincoln, NE as our stop off point as it looks like somewhere in Kansas is our target area for today. However, we went a bit further south and stopped in Beatrice, NE.
After our dinner in Albion, I spotted a coin-op car wash and gave the Trailblazer a much needed bath (only $1.75 for 7min of time!!). 2500 KM of bugs and dust washed off relatively easily but the remaining drive to the hotel erased my efforts.  However, the few minutes it was clean was satisfying. On our way out, the much anticipated storms finally popped about 80 miles west of our location but it was getting dark and none of us wanted to chase at night time.
Stopped just west of Wee town Nebraska awaiting to see with the current condition where the Storms will pop first.  Oh wait after seeing the newest info decided to head to south west Neligh, NE. away we go!
So we are back on the road today again. Today's target will be northern Nebraska/ southern South Dakota. We are hoping to see some storms developing later this afternoon and into the early evening along the boundary that is sitting across Nabraska. CAPEs are expected to be around 3000, there is some 1km helicity and the dew points are close to 20C, so isolated tornadoes are possible.
Even though today wasnt the greatest day for chasing it was finally time to leave and get down to the States. We left at 5:30am EST from Georgina Ont. with the goal of reaching Southern Indiana.
Despite our sensible goals, a litney of highway obsticales blocked our path including;  a flooded Interstate 69 in Michigan, a overturned Semi that closed Interstate 74, and several other construction zones and rush hour traffic that combined for approximatly 3 hours of lost driving time.
In the end we reached Moline, IL and we are bunking here for the night before departing for North East Nebraska first thing in the morning. After driving some 1500kms in 17hrs, the Trailblazer is holding up well so far, however we discovered that the fuel gauge has ceased to function smoothly at least and we are now relying on the trip counter to ensure we are not left stranded (again) with no fuel on the side of the Highway but that is a story for another day.
Mesoholics is please to announce that Elena Lappo, meteoroligist supreme from The Weather Network, has also joined our storm chasing team.  Its great to have Elena with us!  Check out our website as Elena will be sending frequent blogs and updates!