Greetings spuds!
My name is Shane and I'm joining the greasy team of mesoholics this chasing season.  I hail out of Hamilton, ON and have finished a long stretch of 8 years of post secondary studies in both meteorology and urban forestry.  I get the best of both worlds on this grand adventure because if there isn't a storm to look at, there's flora and insectia unknown to study along the roadways.  But if you're looking for weather lingo/jargon, etc., from my blog posts, you're pretty much out of luck.  Why?  In the last two or three years since I graduated from met school at York, I've been living away from the hardcore weather nerd scene under a rock, or perhaps, up a tree!  Maybe one day along the road I'll be bored enough to attempt to describe thunderstorm and tornado formation with arboriculture terminology and leave you all stumped! (credit to A. KC for that one)
So today we set sail from north of Toronto around 10:00 am in the morning and ended our day in Matrinsville, IA 11 hours later.  Quite a transition in many respects.  I'll get my tree crap out of the way by saying we went from swelling buds to trees of the same species nearly fully leafed-out.  Flowers from Malus spp., Prunus spp., Cercis canadensis and even the Robinia pseudoacacia's had there flowers showing off to me by the end of today.  There were a few others that I couldn't identify from the front seat of our trailblazer and i'm sure it will only get worse for me as we head further south.
So once we were across the border in Port Huron, we headed south for Indiana.  Along the way we managed to get a couple of what the others in my group deem "Accidental Intercepts", ie thunderstorms that found us along the way to our planned destination.  We do keep a strong eye for any dangerous developments that we would need to steer clear of but this time we just found a couple cells good for the beginners such as myself.  Lots of rain washing down with some noticeable outflow wind as we first got in.  We found some interesting cloud structures that rarely make themselves appear in southern Ontario and bright and sunny skies on the other side.  All in all, a solid first day.
And lastly, if you're in to eating roadkill, there's enough along hwy US-24 to feed a whole village of you for several days.  Poor lil' buggers.
Until next time,
=>Shane
After awaiting the 15Z forecast models to be release and reviewing them. It looks like we will be heading to south east Nebraska. will be a long day, it appears that there will be a line of storms that will make it difficult to navigate around and there is a good possibility for long lasting tornado's.
P.S Happy Mothers Day.
Getting ready to position for Sunday afternoon/evening. The Storm Prediction Center has upgraded there risk for tomorrow from slight to moderate as predicted if the models were to hold up with what they were suggesting. predictions are tough to choose from as there are 3 spots to choose from the warm front in Iowa, that shows the most the most probability so far for significant tornado's. the cold front in OK KS but will most likely form a line of storms that increases he chance of dangerous situations as there is no way then around the line of severe weather. or the southern plains that show a better chance for isolated severe weather but will have a lower chance of producing a tornado due to the shear not being favorable until the evening to over night hours. this is a tough one to decide as Iowa is about 10 hours from Texas.
Well we are finally prepared and heading down to the Midwest for a few days. Due to some financial constraints we altered our normal plan and we are not going to be down for the normal two weeks. There are no big changes to the truck or equipment this year, save for a new GoPro everything is much the same.
We are departing home tomorrow morning and, knock on wood, plan to reach Joplin, MO or thereabouts by tomorrow evening. From there we will fine tune our forecast and see where we will be chasing from. I hope that this season stats as active as it has been but as usual, hope even more that people stay safe.
After countless storms and close calls we finally got our first tornado. It was a nice cone that was on the ground for a long period of time just outside of the town of  Rozel, Kansas. We have not heard if there were any injuries reported as of yet but we hope that there weren't any.
The day was a coin toss as we were essentially in position from about noon as we watched the front roll in from the Smoke Hoss Restaurant where we enjoyed another delicious meal (having stopped there almost exactly 1 week prior on a different trip through the same town of Meade, KS). There was a cell that was quite strong that popped up to our north and another one that was to our south across the Oklahoma border. The models had predicted that cells would pop up right at our location where the potential for tornadoes was the highest in the area.
The issue was that these storms were not predicted to start until after 6PM and we were waiting for a few hours watching these storms to our north and south that had attracted the attention of many of the other chasers that were out. However, we sat and waited sticking to the original plan and putting some faith that our storm would not only appear, but it would be the best of the day.
At about 6:20PM everything started happening and we were off to chase. The storm appeared right were it should have and moved into the energy that we were hoping it would. We watched it grow on the radar and the top of the cloud peaked over 50,000ft at one point. When we reached the sideroad that many other chasers had set up on we watched it produce a tornado that stayed on the ground for over 5min.
We will put up a video of this tornado and the other 3 that this storm produced as we followed its path north-east when time allows for editing, but right now we have to hit the sack as there are predictions for even stronger storms tomorrow around our area again.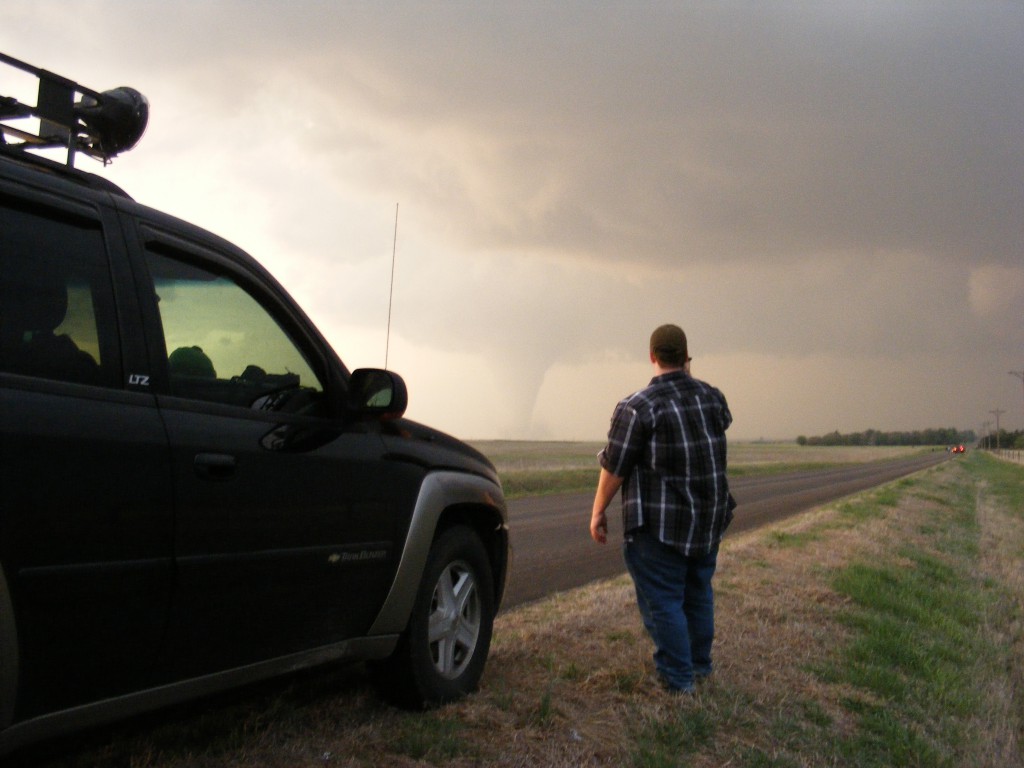 Spending 3 days in a hotel in Beatrice, NB is good for the pocketbook but bad for the nerves. We went to see Iron Man 3 for the low price of $16.50 all in including 2 adult tickets, 2 drinks and a popcorn. Now we are finally on our way to O'Neill, NB to start chasing.
As we frequently find ourselves close to storms and their related damage we sometimes get to see these things close up. Last year in New Mexico we saw a small fire that was started by a lightning strike hitting a Cactus. This small burning plant was interesting to see and a lesser highlight of our 2012 season.
This year we stepped it up a few notches and once again were close to a lightning strike that resulted in a fire. This time, however, the result was a bit more dramatic and (I think) we wisely decided to get a quick drive by video and not stop to observe or try to put out the flames.
See below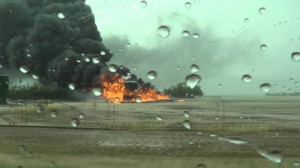 These are 3 Crude Oil storage tanks that I assume took a direct lightning strike and caught fire. We had just driven past them as I saw the smoke in the rear view mirror when we were a bit further down the road. We pulled a u-turn to investigate and as we drove past you could feel the intense heat inside the truck.
First chase of the season yesterday was pretty exciting. It was a long drive to get into position, but we finally ended up chasing an amazing LP cyclic supercell in northern Texas just outside of Paducah. With the storms moving extremely slow it was fairly easy to keep up with it and just watch it go through the motions of intensifying and dying off then re-intensifying for a couple of hours. Pictures and Video to come when we have a better internet connection.
Today it seems we won't have to go to far with the models suggesting southwest Oklahoma to south-central Texas for supercell development. Although there is not much in the chance for tornado development today we should get some night supercells with large to very large hail.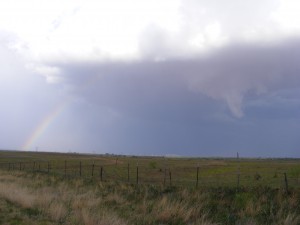 Rainbow and a funnel cloud, good end to a good day.
I finally stopped driving that is… after 1400KM and 4 states I finally gave up the drivers seat and let Jay, have a go. Tonight we are heading to Perry, Oklahoma, and should arrive there around 1AM EST, which looks like it will be a good central location for our improving storm forecasts.
With any luck our internet issues have been solved, we have made 2 phone calls and several stops at various retail stores for both Verizon and T-Mobile to get the mistakes caused by the previous location fixed but all seems good as of this moment. We also made a stop off to pick up two external cell phone antennas to bring the total number of add ons on the roof to 5 between the 2 GPS units, the 2 new Phone antennas and the CB antenna, we do get a lot of looks from other vehicles on the road.
If anyone is wondering the transmission lines that I suspected were the culprit for the odd behavior and the leak were fixed now, and everything else seems to be in order knock on various pieces of wood.
Also I need to give some thanks to youtubes OnlyChillstep who made the end of rush hour downtown Chicago traffic a bit more manageable. I think that Toronto traffic is worse but the unfamiliarity with the roads lead to some tense times.
With our season starting May 2nd there was not much forecast for severe weather in the plains. We Waited eagerly, looking at the morning and evening forecasts hoping that they would improve. Finally there was a glimpse of hope for some storms on Wed in the Central Plains and Northern TX. We departed home and began the long south west trip. Of course with the truck having some mechanical issues 3 hours into the start of the journey as Kevin mentioned in his update. we are now about 8 hrs behind schedule, lots of driving and little sleep right off the start seems like the tradition of little sleep when storm chasing continues.